Sir Grout Nashville Teams Up with the National Association of Residential Property Managers as an Affiliate Member
The leading hard surface restoration company joins the association's network of enterprises who provide high-quality services for the property management industry.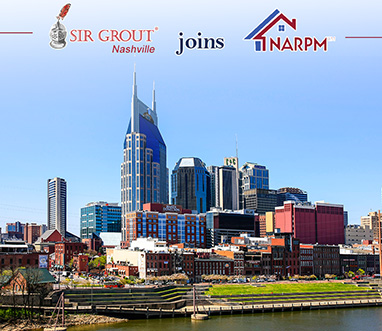 Nashville, TN - (PR WEB - 08/23/2017 4:00 PM CST) - The National Association of Residential Property Managers, or NARPMŪ, has welcomed Sir Grout Nashville as a member of their business network of reputable companies that contribute to the property management industry in Nashville, Tennessee. From now on, Sir Grout Nashville's hard surface restoration procedures will be a part of over a dozen
local services listed as affiliated members
of the property manager association.
As a local affiliate of NARPM's Nashville chapter, Sir Grout Nashville joins a growing professional conglomerate of real estate and property management experts who are in charge of over $20 billion worth of properties nationwide, from single family homes to small apartments. Thanks to this selective business network, property managers and real estate agents nationwide have quick access to a list of reputable companies to turn to for different kind of needs, such as legal consulting, home repair services, or home improvement services like the hard surface restoration procedures Sir Grout Nashville offers.
Sir Grout Nashville joins NARPMŪ aiming to strengthen their relationships in the property management business and to stay up to date with the latest news regarding the industry. There are three different ways to join the national association: as a professional member if you're a property manager; as support staff for the trained, administrative staff in property management businesses; or as an affiliate member. The last being composed of companies like Sir Grout who serve or supply the residential property management profession. Affiliates are selected by the association based on their professionalism and credentials, as well as their commitment to provide high-quality services to support property managers and help the real estate business maintain its growth. Sir Grout Nashville is now an important resource for NARPM's professional members who, according to the association, over 76% own partial or full interest in their property management company and decide which products and services to use.
NARPMŪ began in October 1988 as a professional institution to provide resources for property managers who desired to learn, grow, and build relationships across the country. More than two decades after its foundation, NARPMŪ is recognized nationwide for its professionalism, cooperation, and education programs. Sir Grout Nashville feels proud to team up with such reliable, local companies, and to help Nashville real estate managers maintain their properties with their tile, grout, and stone restoration services.
More information about Sir Grout Nashville's hard surface restoration procedures can be found on their website
www.sirgroutnashville.com
or by calling
(615) 649-6767
. To learn more about the National Association of Residential Property Managers' affiliate membership, visit their website
www.narpm.org
.