Welcome to the Foyers category for the Sir Grout Nashville Blog. Here you'll find blog posts related to stone, tile, and wood Foyers that we've restored. See the amazing transformations with the included before and after pictures. Feel free to share and leave your comments.
Published September 20, 2018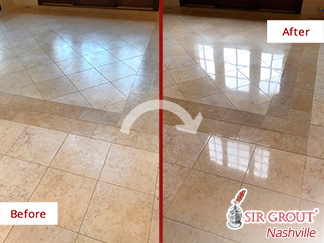 Our Stone Honing and Polishing Experts in Franklin, TN, Made This Limestone Floor Shine Once Again
One of the many factors to consider when installing natural stone is the durability that it provides. Having stone floors gives versatility to a homeowner because of its exclusivity and because there are no two pieces alike, making each surface unique.
READ MORE
Published June 26, 2017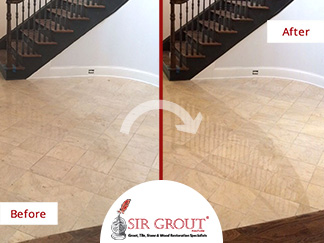 This Beautiful Marble Foyer in Nashville, TN, Was Brought Back to Life Thanks to a Stone Honing and Polishing Service
People that care about the impression their homes make, care about their foyers. Great hosts know that nothing will make a better impression than taking the time and effort into turning the foyer into one of your home's key features.
READ MORE