Welcome to the travertine category for the Sir Grout Nashville Blog. Here you'll find blog posts related to travertine surfaces that we've restored. See the amazing transformations with the included before and after pictures. Feel free to share and leave your comments.
Published October 18, 2018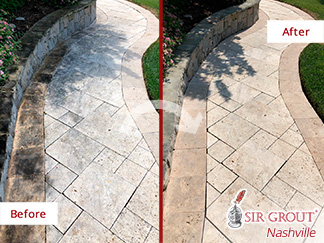 A Stone Cleaning Service Renovated This Beautiful Travertine Walkway in Brentwood, TN
Waterproofing natural stone has become increasingly important for avoiding mold growth. Mold is a fungus that appears on the surface of organic materials such as stone when the conditions are damp and warm. For this reason, controlling moisture is a must to prevent mold from thriving.
READ MORE
Published January 13, 2018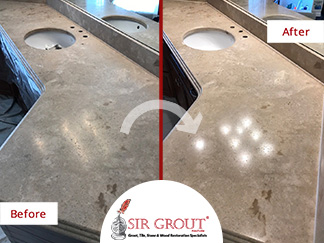 We Brought Back Life to This Travertine Vanity Top, Thanks to a Stone Honing Service in Brentwood, TN
A young couple bought a big and comfortable house in one of the best neighborhoods in town. They knew exactly what they wanted, so when they came across a two-story house with a huge backyard on a quiet street, they knew it was the one.
READ MORE