Welcome to the Slate category for the Sir Grout Nashville Blog. Here you'll find blog posts related to slate surfaces that we've restored. See the amazing transformations with the included before and after pictures. Feel free to share and leave your comments.
Published July 12, 2019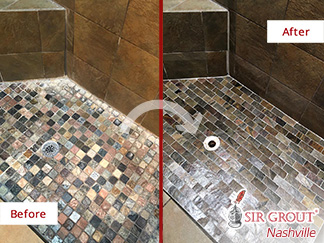 Our Professional Hard Surface Restoration Services in Nashville, TN Gave This Shower a Wonderful New Appearance
For some homeowners, natural stone showers are very difficult to clean. Even if they're cleaned regularly, using improper cleaning methods and products do nothing but cause further deterioration. A Nashville resident recently had this realization.
READ MORE
Published December 19, 2018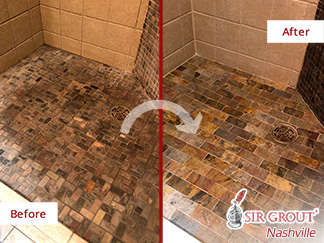 Our Remarkable Hard Surface Restoration Services Helped a Customer in Green Hills, TN Avoid Costly Repairs
Shower tiles can be a nightmare to clean. Oftentimes, improper cleaning methods and products can contribute to tiles and grout lines wearing out. A homeowner from Green Hills, TN never thought the lovely slate shower floor in her master bathroom could reach such an awful condition.
READ MORE