Welcome to the Vanity Tops category for the Sir Grout Nashville Blog. Here you'll find blog posts related to stone and tile vanity tops that we've restored. See the amazing transformations with the included before and after pictures. Feel free to share and leave your comments.
Published May 31, 2018
A Professional Stone Polishing in Brentwood, TN, Recovered These Marble Countertops from Decay
A vanity top is special area for women. This homeowner had lived in her home for a while now and her bathroom was her sanctuary. She loved the elegance of her marble vanity tops and the space she could enjoy every morning when getting ready for work.
READ MORE
Published January 13, 2018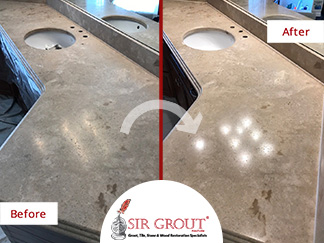 We Brought Back Life to This Travertine Vanity Top, Thanks to a Stone Honing Service in Brentwood, TN
A young couple bought a big and comfortable house in one of the best neighborhoods in town. They knew exactly what they wanted, so when they came across a two-story house with a huge backyard on a quiet street, they knew it was the one.
READ MORE