Welcome to the Limestone category for the Sir Grout Nashville Blog. Here you'll find blog posts related to limestone surfaces that we've restored. See the amazing transformations with the included before and after pictures. Feel free to share and leave your comments.
Published November 19, 2019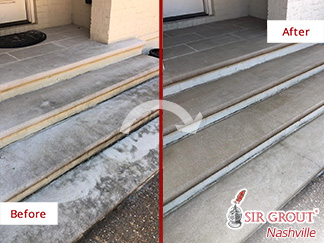 A Professional Stone Cleaning Service Enhanced the Appearance of Two Limestone Entryways in Brentwood, TN
Due to its distinctive appearance, limestone gives a rustic look to any home. Limestone is a beautiful sedimentary rock that's mainly composed of calcium carbonate. It's frequently used for paving entryways.
READ MORE
Published September 20, 2018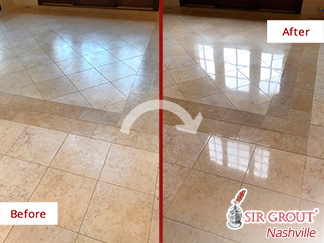 Our Stone Honing and Polishing Experts in Franklin, TN, Made This Limestone Floor Shine Once Again
One of the many factors to consider when installing natural stone is the durability that it provides. Having stone floors gives versatility to a homeowner because of its exclusivity and because there are no two pieces alike, making each surface unique.
READ MORE