A Caulking Service in Columbia, TN, Rescued This Tumbled Marble Shower from Soap Scum
March 31, 2018
As everyone knows, one of the most frustrating problems in showers is the cracking grout. This problem is caused by different culprits, such as water penetration due to badly sealed surfaces, incorrect cleaning procedures or methods, or the age of the shower. Unfortunately, homeowners do not realize about it until it is too late and that's when they need to hire a professional company to solve the problem.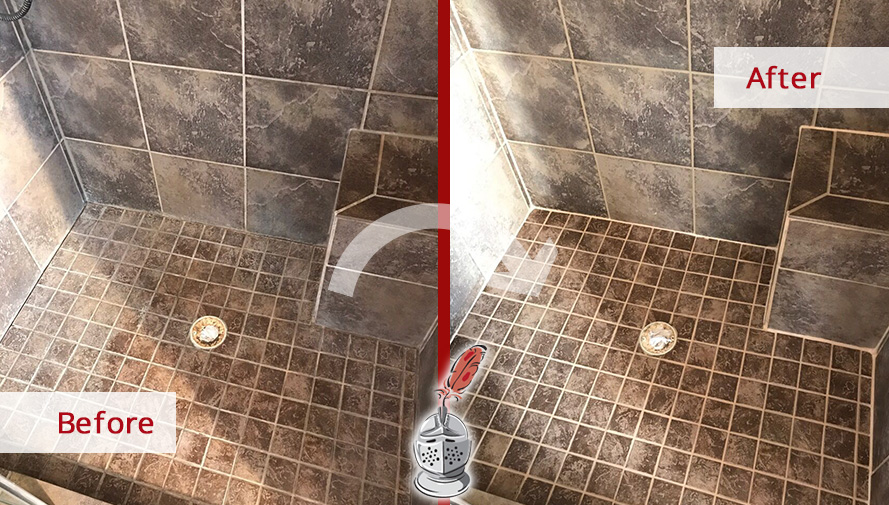 Our
caulking service in Columbia, TN
helped a woman restore her tumbled marble shower. She had been living in her beautiful home for three years, but she'd recently noticed the shower was not in perfect condition. The owner had a busy daily life, and she didn't have enough time to clean her house as much as she would have liked. In fact, she had planned a cleaning routine that she tried to fulfill on weekends when she had some free time from work, but the problem was that she rarely followed through with it. Her job kept her busy and there was little free time to keep up with her house.
A couple of months prior, while she was cleaning the house, she noticed something was not right on her shower floor. She saw a white powder had begun to build on it. She overlooked the problem at first, believing it could be cleaned with time and several attempts.
She went to the store to buy products for her cleaning session. When she arrived, she started the clean up immediately. First, she took care of the bedroom, then the kitchen and living room, saving the bathroom for last. Before cleaning the shower, she searched for a few tips online to better clean and remove the white stains on the floor. When she was done, she noticed nothing different on the shower. The surface was the same. She thought maybe one cleaning session was not enough to solve the issue, so she decided to try again on her next day off.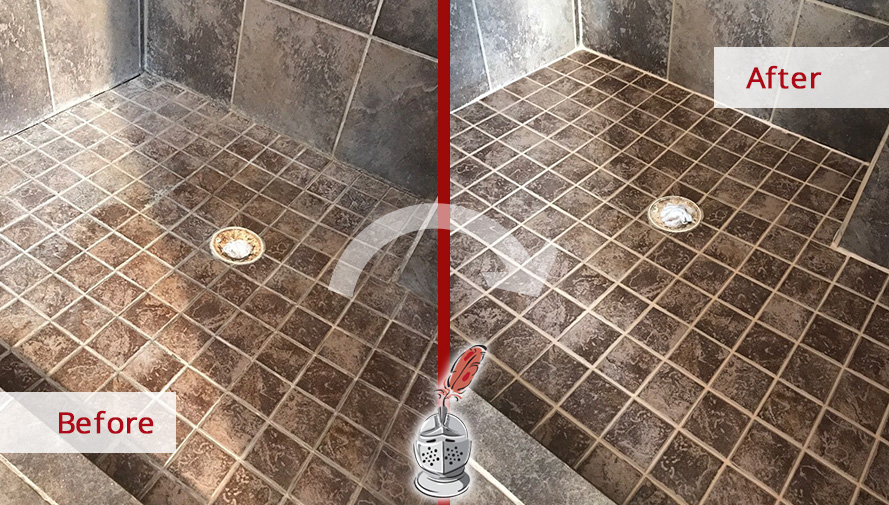 A few days later, the homeowner decided to use some of her vacation time to fix the problem in her shower once and for all. On her first day off, she began the cleaning routine using different products and methods she'd seen in a DIY video online. After she finished, she was disappointed to see there were no positive results on the tumbled marble shower. She decided not to wait any longer. No matter what products she used, she couldn't totally clean the shower. It was time to contact professionals in the field.
The resident asked her family and friends about a company that might help resolve her shower problem. A family member recommended the perfect company to hire: Sir Grout Nashville. He had hired us and assured the homeowner we did a great job on his marble kitchen floor, which had turned out stunning. She visited our website and read testimonials from satisfied clients. She also saw several pictures from previous jobs where customers had the same problem as her. She was convinced we were the right company to restore her tumbled marble shower. She filled out the "Request a Quote" form for a free in-home consultation.
On the day of the evaluation, our expert arrived at the client's house to assess her shower and offer an effective solution. She invited him to the bathroom, where he detected the issue. The floor was full of soap scum, the grout lines were cracking, and the caulk was falling apart. He asked about her cleaning routine. When he heard she hardly ever cleaned, and when she did, she used harsh, inadequate cleaning products, he understood why the shower was in the condition it was in. He explained that using bar soap created soap scum. The products she'd been using damaged the stone, grout lines, and caulk as well. He offered a complete caulking service, which included re-grouting the entire shower and then sealing it to prevent future damage. The customer agreed right away and set up a date for the restoration.
On the scheduled day, our specialist returned to the house to get the job done. First, he applied a proper cleaner and let it soak for a few minutes. Then, he used a high-speed scrubber to remove the dirt, grime, and the soap scum from the surface. Our specialist even used a vapor steam cleaner for the hard-to-reach areas and to eliminate mold and mildew on the shower.
The next step was to re-grout the entire shower. To do so, our technician used Epoxy grout and then used Epoxy caulk on the shower joints to prevent water damage from reoccurring. To finish the job, he applied Sir Grout's proprietary sealantóColorSeal, which he applied to the walls. He explained the product would protect the surface from water and mold growth. Also, ColorSeal comes in a variety of color options to give the client many choices.
Once the job was done, our expert showed the results to the homeowner. She was amazed to see the brand-new look of her tumbled marble shower. There was no trace of soap scum on the floor and the entire shower was totally renewed. She thanked us for the wonderful service and mentioned that she would recommend Sir Grout Nashville to anyone who had a similar issue.
Before leaving, our expert gave her a few tips to help maintain her shower. He suggested she start using liquid soap instead of bar soap. He also told her to properly ventilate the bathroom to prevent mold growth. Last, he recommended she always use pH-neutral and stone safe cleaners so as not to dull the surface and damage the grout lines.
If your shower is full of soap scum and the grout is cracking, it is time to contact Sir Grout Nashville. We are the world's leading hard surface restoration company. Give us a call at
(615) 649-6767
or fill out the "Request a Quote" form to schedule a free in-home evaluation. Also, subscribe to our
newsletter
to keep up to date with or promotions.
If you found this article helpful then let us know in the comments section below. Likewise, feel free to share it using the share options below. Want us to cover another topic of your interest pertaining to Hard Surface Restoration? If so, then like us and follow us on social media, and post to any of our social media profiles the topic you'd like us to discuss:
Facebook Sir Grout Nashville
,
Instagram @sirgroutnashville
, and
Twitter @SGNashvilleTN
.