A Professional Stone Polishing in Brentwood, TN, Recovered These Marble Countertops from Decay
May 31, 2018
A bathroom is a place for all the family, but a vanity top is a special area for women. This homeowner had lived in her home for a while now and her bathroom was her sanctuary. She loved the elegance of her marble vanity tops and the space she could enjoy every morning when getting ready for work. Unfortunately, over time both countertops had lost their shine. She became frustrated after attempting to revive them on her own. She was soon to learn that a
Brentwood stone polishing
and honing was the solution to recovering her countertops' former glory.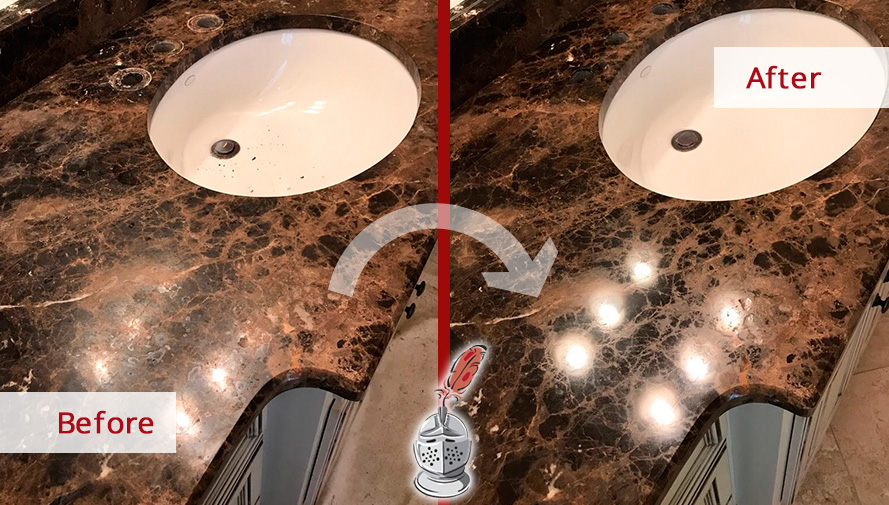 Our Customer's Story
Every homeowner loves to have a spacious and beautiful home they can show off every now and then. They do everything they can to preserve their house in the best shape possible, especially when they have friends and family coming over for a special event. Even though stone surfaces are durable and can withstand years of wear and tear, it is necessary to retouch them to prevent deterioration. Our homeowner loved her home, but the bathroom had been special to her since she first saw it.
Right Intention Gone Wrong
The woman believed in preventive maintenance. She kept a strict cleaning routine for the upkeep of her home, which obviously included her precious marble countertops. She used to rigorously clean them every weekend. Week after week, the stone got drabber and etch marks appeared all over the surface. The homeowner tried hard to remove them because she thought they were just water stains, but they would not disappear regardless of the method she used. In fact, more marks appeared after each cleaning routine. It was a nightmare come to reality.
Taking a Step in Faith
She really wanted to get rid of the unsightly look in her bathroom. The owner thought the only way to do that was by getting professional help, but she didn't know where to start looking. Fortunately, she came across a friend's post on Facebook about a successful hard surface restoration service that Sir Grout Nashville had recently performed in her friend's home. Our homeowner immediately asked her friend for references and visited our website to take a look at reviews left by former customers. After reading some testimonials, she decided to schedule a free in-home consultation.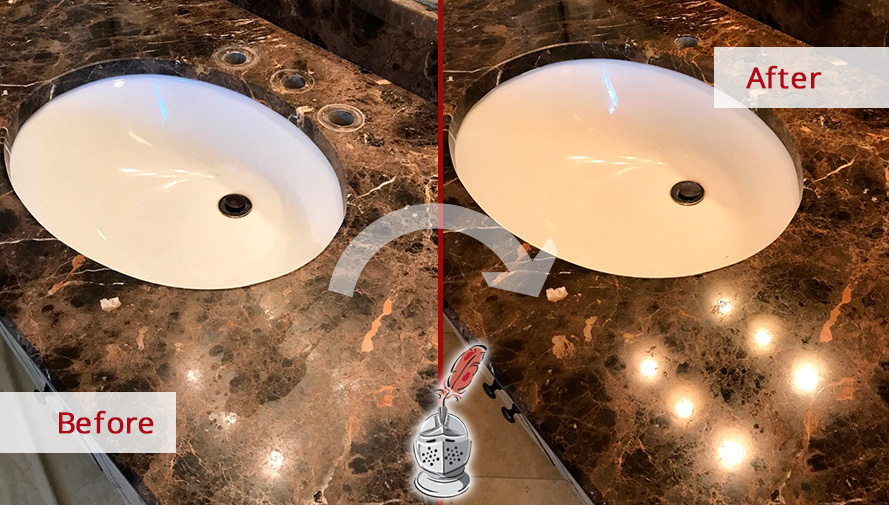 A Knowledgeable Visitor
On the set date, our stone expert arrived at the owner's property and assessed the current condition of the vanity tops. His expertise allowed him to determine the causes of damage and design an action plan to rejuvenate the stone slabs. He told the owner that the marble had been subjected to the incorrect cleaning products and procedures. He also said it would be necessary to clean, hone, and polish both vanities.
Marble: A True Beauty but Not Invincible!
Marble is a beautiful and durable stone. It can embellish any space with its elegance and uniqueness. However, it is considered a soft stone, so it needs proper maintenance to preserve its finish and beauty. Marble's main vulnerability is etching. Being calcareous, it has a chemical reaction when in contact with acids that breaks the sealer and results in etch marks. That is what happened to our homeowner. She used an inappropriate cleaner that led to etching. The more she used it to remove the previous etch marks, the more etches appeared.
A Hard Way to Restoration
Stone Cleaning
A few days after the home evaluation, our technician returned to the owner's home and began working right away. First, he masked the surrounding areas to prevent damaging other surfaces. The process began with a deep cleaning of the entire stone slab. Our hard surface restoration specialist used stone-safe cleaning products to remove the grime buildup. Since the bathrooms are damp spaces with poor, or no, ventilation, the technician used vapor steam cleaning to eliminate any mold that might be growing.
Stone Honing and Polishing
The second step comprised the corrective techniques —honing and polishing. Our skilled tech used low-number grit pads to remove every etch mark and scratch from the surface. He continued honing and increasing the number of the grit pad until he achieved the mirror-like finish the customer wanted.
Preventing Future Damage
Once the marble slabs had gained a glossy finish, it was time to prevent future damage. With this in mind, the expert used a solvent-based sealer to block the pores of the stone.
The Right Sealer Can Do Wonders!
Marble is a metamorphic rock, meaning that it is hard and can take years of usage, but it still has pores that allow the seepage of liquids and all the articles they may carry. Solvent-based sealers are ideal for this kind of surface because they penetrate the stone. Once the solvent and the sealing particles are inside the stone surface, the solvent evaporates, leaving the sealing particles in place to block the pores of the stone. This kind of solvent also enhances the natural deep colors of the marble.
Our Customer's Opinion
As soon as the technician finished the job, he let the homeowner in to show her the results. The woman was thrilled to see the shine in her vanity tops gain. She thanked the expert for his remarkable job and said he had exceeded her expectations.
Pearls of Wisdom
At Sir Grout Nashville, we believe in educating our customers on how to preserve the look of their hard surfaces. That is why our specialist gave the owner some care and maintenance tips for the upkeep of the results. He said it is necessary to keep the surface as clean as possible, for which it is mandatory to remove spills with a squeegee or a piece of cloth soon after it occurs. He also told her to be extremely careful when cleaning the mirror because glass cleaners are not safe for stone, and the spills could cause etching or stains. And last but not least, he said that it was imperative to use stone-safe, soap-free, pH-neutral cleaners in the cleaning routine.
Live in Nashville and need stone surface restoration? Search no more! If you have natural stone surfaces in your house that look dull, with etch marks, scratches, and stains, you need professional help. Sir Grout Nashville can help you! We have the experience and knowledge to restore any hard surface, whether it is a commercial or a residential facility. Do not hesitate to contact us. Call us at
(615) 649-6767
or fill out our "Request a Quote" form on this page to schedule a free, in-home consultation.
If you found this article helpful then let us know in the comments section below. Likewise, feel free to share it using the share options below. Want us to cover another topic of your interest pertaining to Hard Surface Restoration? If so, then like us and follow us on social media, and post to any of our social media profiles the topic you'd like us to discuss:
Facebook Sir Grout Nashville
,
Instagram @sirgroutnashville
, and
Twitter @SGNashvilleTN
.