Amazing Restoration: Our Brentwood Stone Sealing Experts Enhanced This Brick Surface
February 23, 2023
Preparing the house for an event can be a challenge. Many homeowners want their homes to look perfect for their guests, but some areas of the house can be troublesome to maintain. Our next client, a housewife from Brentwood, TN enjoyed hosting parties for her friends in the patio of her house. While preparing for an event, she noticed the poor condition of the patio's brick floor. The stone looked dirty and unappealing.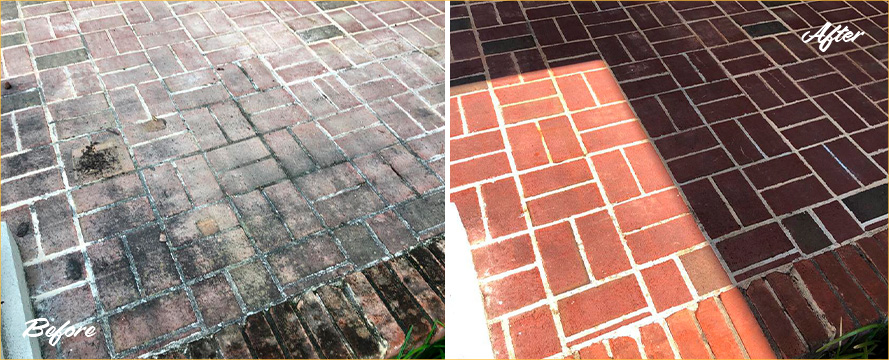 This was a big issue for her because she wanted everything to look great. Nevertheless, she was confident she could restore the floor. The owner brushed and mopped, trying some cleaning routines she found online but unfortunately, nothing worked. After considering her options, she decided to hire professionals. The owner talked about the problem with some friends and neighbors. One of her friends recommended our
Brentwood Stone Sealing
service. He told her we had done an excellent job on his travertine floor and advised her to contact us as soon as possible. She called us, explained the situation, and asked for an assessment.
As requested, we went to her house to provide a free in-home consultation. The owner greeted us, and we began the inspection of the patio's floor. The first issue we noticed was the run-down appearance of the bricks. Years of daily foot traffic, solar exposure, and improper cleaning methods have led to this deterioration. The stone needed deep cleaning and it was also necessary to seal the surface to block the absorption of water, dirt, cleaner residue, and all other external agents, preventing future damages. When we finished the evaluation, we concluded that regular cleaning wouldn't produce effective results. The restoration required Sir Grout's hard surface expertise and our professional techniques. We offered a stone sealing service to protect and enhance the brick surface with a new finish. The owner was pleased with our proposal, so she hired us and set up a date for the job.
We returned to our client's house for the restoration and began the process by deep cleaning the floor. Since the patio had a brick surface, we used the most effective products for that kind of stone. The cleaner we used has specific agents that ensure optimal results on brick surfaces. It's also pH-neutral and won't cause any damage. Once the patio was spotless, it was time to seal the stone.
For this task, we applied MicroGuard's
High Durability Coating
. Our top-of-the-line sealer provides unmatched strength, durability, and resistance against abrasion, staining, and chemical substances. It is also ideal for outdoor surfaces because it offers UV protection. MicroGuard produces long-term results with hydrophobic components that repel dirt and other debris, reducing deterioration. With proper care and maintenance protocols, the coating can last up to five years. We thoroughly worked on the entire patio and successfully restored the surface. When we completed the job, the bricks had a stunning new finish and the surface was shielded to endure heavy wear and tear.
The client loved the results of our stone sealing process. She couldn't believe how beautiful the patio looked. She was happy because this amazing restoration had been fast and cost-effective.
Outdoor areas are subjected to constant weather changes. Elements such as sunlight, heat, cold, rain, or even the wind can have a negative impact on the surface and can lead to deterioration. To prevent damages, it's necessary to follow proper maintenance procedures. We recommended setting up a weekly cleaning routine. For brick surfaces, it's best to use stone-safe cleaners like
Sir Grout's Natural Hard Surface Cleaner
. Our product is made with high-quality components and won't produce any negative effects on the bricks. It is also non-toxic and safe for everyone in the house, including pets. Before applying the cleaner, hose the area with water. The stone needs to be wet so it doesn't soak up the substance and form a murky film. Once the bricks are wet, prepare a mild cleaning solution with warm water. When the solution is ready, gently pour some on the surface, working in small areas at a time.
To brush the floor, we recommended using a stiff-bristled broom. Avoid using wire brushes or scouring pads as these tools can leave scratches on the stone. Scrub in different directions to prevent wearing out the same spot. Once the scrubbing and cleaning are done, rinse down the area with clean water. For better results, use a regular garden hose instead of a power washer.
Sir Grout Nashville's certified technicians can help with your surface restoration problems. Our experts know exactly what to do to revamp your brick surfaces and pavers with a brand-new look. Our top-notch stone sealing process can revitalize and protect any type of stone surface. As a leading company in the hard surface restoration industry, we have years of experience and reliable solutions at your disposal. Don't hesitate to contact us by calling
(615) 649-6767
or by filling out our "Request a Quote" form for a free in-home consultation. Don't forget to subscribe to our
newsletter
to receive our latest info and promotions.