Our Caulking Services in Franklin, TN, Restore and Transform Even the Dingiest Showers
June 21, 2018
Maintaining your bathroom as a dirt and mold-free environment means you have to keep the caulk in the shower in good condition. Caulking the connection between the shower walls and tub prevents leaks and reduces fungi buildup. However, as your tiled shower ages, there is a good possibility that a leak could develop between the tiles and the floor. Water and mold damage is caused by deteriorating or missing caulking and grout which allows water to seep underneath the surface damaging your shower walls and floor over time. Once water gets in, there is no telling how much harm it can cause. Whenever a good scrubbing doesn't make the caulk and grout look fresh anymore or there is a space between the tiles and the walls or tub, it's time to renew the shower caulking. The best option our next client had to prevent difficult and costly repairs was to hire professional
caulking services in Franklin, TN
.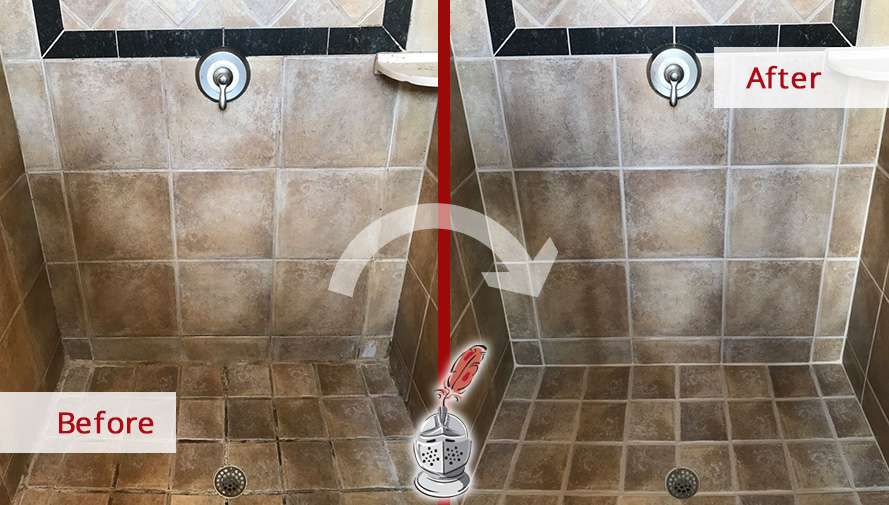 This family from Franklin, TN was having a hard time with the maintenance of their shower. Household cleaning chores were performed diligently by the mother and her son, while the father took care of other improvements around the house. As usual, they began the cleaning session and nothing was out of the ordinary until they reached the shower. When they started scrubbing the walls and floor, they noticed something odd in the grout lines. The grout and caulk were stained and the black blemishes didn't want to come out. No matter how hard they tried to remove the dirt, the sullied appearance remained on the surface. The son notified his father about the problem and he went to take a look. He noticed that the floor had some missing caulking and cracked grout. He got worried because he knew all the problems this could bring.
He went online to search for solutions for the problem they were having. Unfortunately, most of the answers he found suggested replacing the shower caulking. He was still determined to solve the issues himself, so he decided to look for methods that would help him in this endeavor. Nevertheless, this solution required a great deal of work and it was more complicated than it seemed. His wife told him to call her brother and asked for his help. Luckily, his brother in law was a former Sir Grout Nashville client and he immediately recommended our services. He said that we had completely restored his bathroom and hiring us was the best, cost-effective decision he made. He told them to check out our website to see for themselves.
They decided to follow his advice and went online to visit our site. They were amazed by the quality of service we offered. As they browsed our website, the
"Before and After"
gallery caught their eye and they began looking at the pictures that showed the results of our work. It was an impressive showcase of our skill and professionalism and they were surprised to see the transformation of showers with similar problems as theirs. After that, they read testimonials and comments from our previous clients. All the positive feedback we had received over the years and the high praise their brother had given us was reassuring. They were convinced we could help them restore their shower and decided to give us a call to request a free in-home consultation.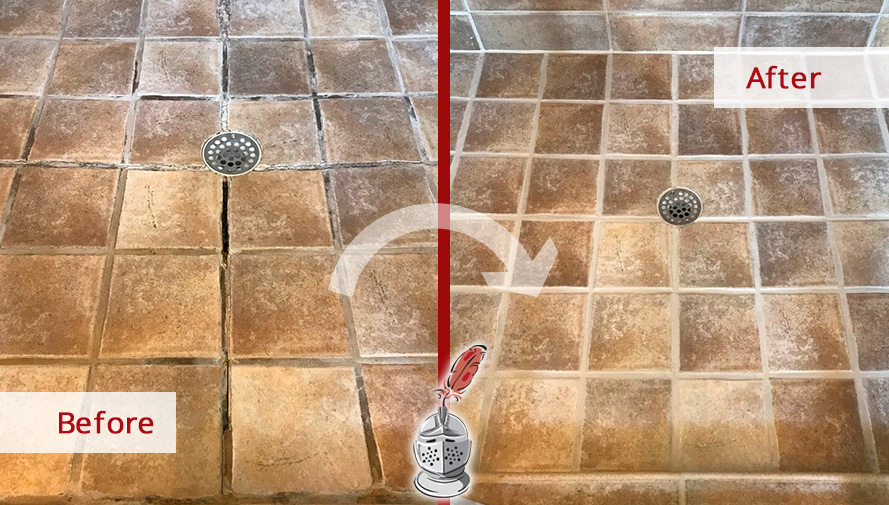 We arrived on the appointed date to begin the shower's assessment and to offer the most effective solution for its problems. The family was expecting us and after a brief introduction we proceeded with the evaluation. At first glance, we noticed the missing caulking and cracked grout. This was causing water damage on the walls and floor of the shower. We warned the owners about the risk of having water leaking under the surface and all the structural problems this could bring to their property. On closer examination, we found that the grout lines were filled with mold and mildew. This gave the surface and unhealthy appearance and it was caused by the absorption of water, cleaner, and soap residue that over time promoted the growth of fungi. We concluded that the shower needed professional maintenance to be restored.
We offered a caulking service to repair and replace the missing caulking and cracked grout using our experienced techniques and exclusive products. We would use our high-quality, safe for the tile and grout cleaners to get rid of all the dirt and grime from the surface. We would replace the old caulking with an epoxy grout substitute using our remarkable and exceptional StainMaster. This high-quality product is resilient, long lasting solution that won't crack or peel and it's easy to clean and maintain. We would also seal all the grout lines with our unique ColorSeal. This superior sealant offers resistance against water, stains, mold, and mildew all while enhancing the appearance of the grout by giving it a uniform color. We assured the owners that after our work, their shower would be renewed and it would be shielded against all future damage. They were satisfied with our evaluation and accepted our offer. They agreed to set up a date for the job.
A few days later, we returned to our clients' house ready to restore their shower. It was going to be a thorough, multi-stage process that required the most advanced techniques and skillful procedures:
Using our pH-neutral tile and grout cleaner with a gentle, high-speed scrubber, we cleaned the walls and floor. We used a product that is safe for the grout and won't discolor or stain the tiles. It is soap free so it won't leave any residue that could seep into the grout lines. Also, it won't crack or peel the grout. We made sure there was no trace of dirt and grime left in the shower.
Using a high temperature steam cleaner, we cleaned the environment. When this was completed, we got rid of the mold and mildew and we left the bathroom fungi free.
Using our proprietary StainMaster, we replaced the old, damaged grout and caulk with a resistant, long-term solution. We filled the missing caulking and repaired the cracked grout lines with a brand-new solution. Our epoxy grout is a top of the line product made of a hard composition that won't crack when scrubbed and would provide easier, faster, and better cleaning routines for years to come.
Using our top-notch and exclusive ColorSeal we sealed all the grout lines. This unique sealant blocks the absorption of water and shields the grout lines against dirt, grime, and soap scum, thus preventing the growth of mold and mildew. It also enhances the look of the grout lines by giving them a uniform color and a pristine appearance. It comes in a wide range of colors and we used the one desired by the owners.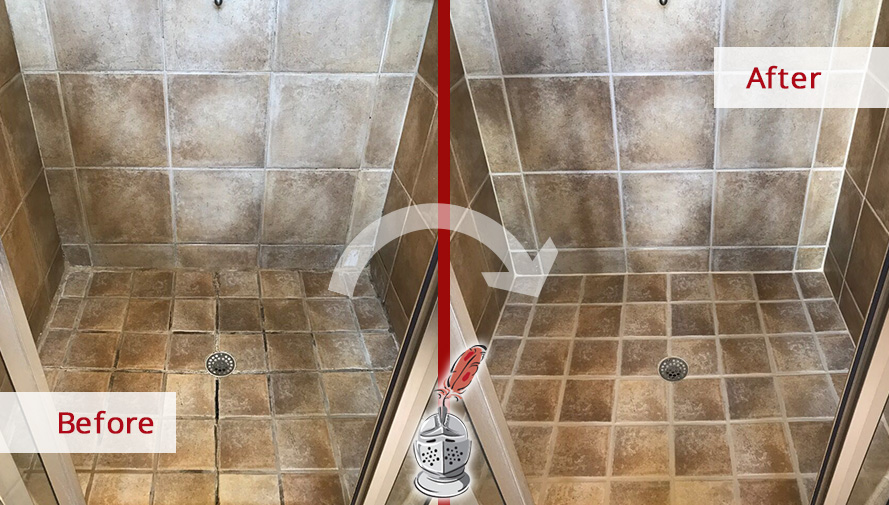 When we finished all the steps, the shower had improved greatly. It was completely clean and refreshed with a brand-new appearance. There was no missing caulk and all the broken, dingy grout lines had been restored and replaced with a resilient and durable epoxy solution. The tiles regained their natural allure and gave the walls and floor and enhanced look. Everything had been fully renovated with high quality products and techniques that ensure long lasting, easy to keep results. This could have only been accomplished with our experienced and professional work.
We invited the owners to see the results. They were happy to see that their worry was finally gone; the shower was spotless and pristine with no signs of missing caulk or damaged grout. They were amazed and impressed with our performance and stated that the quality of our work was remarkable. After thanking us, the owners said that from that point on, they would recommend Sir Grout Nashville to all their friends, family, and neighbors. Thanks to our professional service and expertise, we had become their company of choice for hard surface restoration.
We always take time to train our clients on how to perform proper maintenance on their restored surface and we provide them with long term results that are easy to keep. Before we left, we gave the owners some recommendations and suggestions to make cleaning routines easier, faster, and safer for their surface. This would ensure the great condition of the shower for years to come.
We recommended:
Cleaning the shower using pH-neutral, soap free cleaners, which don't leave any residue and are harmless for the grout. Soap-based cleaners leave residues that seeps deep into the grout lines, promoting mold and mildew growth. Acidic cleaners, on the other hand, are harsh and can discolor the grout and break it. These types of cleaners should be avoided.
Using gel soap instead of bar soap. This alternative won't leave any harmful residue on the tiles and grout. Soap scum is nothing more than bar soap foam that has re-hardened on the surface. Not using these soaps would help prevent soap scum accumulation in the shower.
Keeping the environment well ventilated and dry. This is important to prevent fungi growth due to the humidity of the shower. Leave the doors open, especially after hot showers. Also, when drying the surface, use a squeegee, a towel or a terry cloth. Squeegeeing is a great choice to prevent soap scum buildup.
Our advanced techniques and high quality products, and these easy to follow steps are guaranteed to keep the restored, clean look of their shower for a long time.
At Sir Grout Nashville we have the solution for all your hard surface restoration problems. It is possible to restore even the dingiest, oldest shower to its prime days with our professional help. We provide experienced and qualified caulking services which will give your shower a new life. As a leading company in the hard surface restoration industry, we offer the most effective techniques to help you with your problem. Don't hesitate to contact us by calling
(615) 649-6767
or by filling out our "Request a Quote" form for a free in-home consultation. We will be happy to attend you. Also, be sure to subscribe to our
newsletter
to receive our latest info and promotions.
If you found this article helpful then let us know in the comments section below. Likewise, feel free to share it using the share options below. Want us to cover another topic of your interest pertaining to Hard Surface Restoration? If so, then like us and follow us on social media, and post to any of our social media profiles the topic you'd like us to discuss:
Facebook Sir Grout Nashville
,
Instagram @sirgroutnashville
, and
Twitter @SGNashvilleTN
.