Our Nashville Stone Cleaning Professionals Successfully Removed the Efflorescence from This Shower's Pebble Floor
November 07, 2018
Efflorescence is one of the most common problems among homeowners who have natural stone surfaces. This problem is more likely to happen in areas that are generally moist and constantly in contact with water, such as bathrooms, pools, and gardens. It occurs when water leaves behind salt deposits that create a white, powdery substance on the surface. This can be a clear sign of water damage and shouldn't be left unchecked because it could lead to more time-consuming repairs. Professionals can quickly identify this problem, clean, and seal the stone to prevent future damages. For this reason, the best way to get rid of efflorescence is to contact experts with the right equipment and experience in hard surface restoration.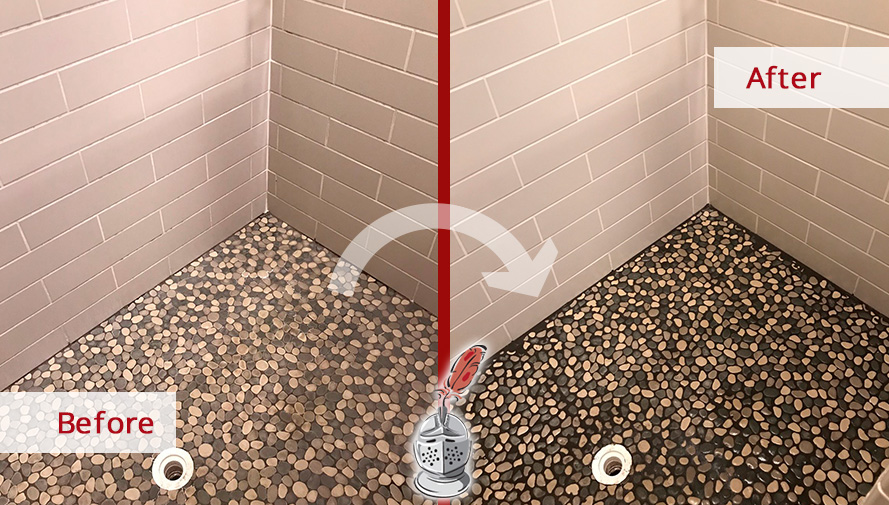 The Problem
Our next client, a homeowner from Nashville, had a shower equipped with pebble flooring. This type of natural stone produces a soothing effect, as if the owner were outdoors in a river. It was relaxing at first, but over time the maintenance of the shower became a struggle. He witnessed how a white and chalky haze gradually appeared on the floor and tarnished its beautiful stone pebble surface. The owner was concerned, so he searched for solutions online. He followed advice found on YouTube, using several types of common cleaners and DIY methods, but nothing seemed to get rid of the substances. In fact, a couple of cleaning products made the problem worse because they left residue that seeped into the stone. This is when the owner knew he had to seek professional assistance. Luckily, his search led him to find our
Nashville Stone Cleaning
, and our experts knew exactly what to do to restore his shower.
He went online again, but this time he searched for the best stone cleaning company in Nashville, TN. In the top search results, he found Sir Grout Nashville. He was impressed by the exceptional and professional service we offer. As the owner browsed our website, the
picture gallery
caught his attention. The pictures showcased the quality of our work and the results we provide our customers. He was happy to see we had restored many showers with similar problems as his. After checking the pictures, he read testimonials from previous satisfied clients. The positive feedback we had received over the years certified us as a leading company in the hard surface restoration industry. This reassured him of our ability to do the job. Convinced we could solve his problem, he decided to call us to request a free in-home consultation.
Sir Grout Nashville's In-home Inspection
As scheduled, our stone experts arrived to evaluate the shower and to offer the most effective solution for its restoration. After greeting the owner, they began the assessment. Our team noticed the issues in the shower as soon as they entered the bathroom. The floor was indeed affected by efflorescence. They explained it was likely caused because the minerals in the hard water left calcium deposits between the pebble stones. Upon closer inspection, they found cracks on the floor, specifically along the joints in the corners. Furthermore, the grout in the walls was harboring mold and mildew. They told the owner that these fungi pose a threat for everyone in the house because they can cause allergies and other health problems. We concluded that the shower required our special process for full restoration.
To solve these problems, our experts proposed a stone cleaning service. They would remove the efflorescence and steam clean the surface using our exclusive products and high-end equipment. They would follow this with an epoxy re-grout on the shower's pebble flooring to prevent further efflorescence and to make it aesthetically pleasing. Happy with our technicians' assessment and the solution they proposed, the owner booked the next available date for the job to take place.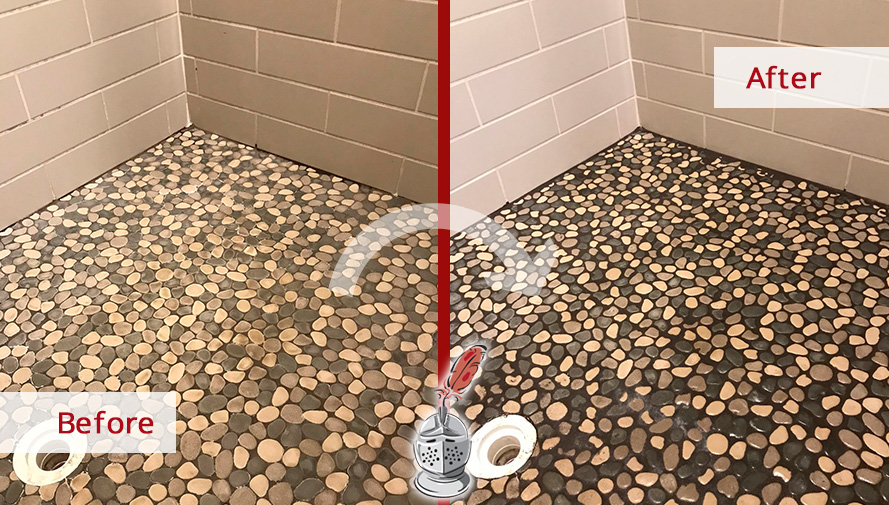 Restoring the Hard Surfaces
That same week, our technicians were once again at our client's house, ready to deal with the besmirched and moldy shower. It only took them a couple of minutes to get prepped and begin the multistage process. They started by pouring
Sir Grout's Natural Hard Surface Cleaner
all over the stone pebble floor and the shower walls. This top of the line cleaner is soap-free and safe for the stone and grout. It won't leave any residue that could be absorbed by the grout lines and won't cause stains or discoloration. Also, its revamped formula can help inhibit the growth of bacteria and fungi for an extended period of time after application. After letting it sit for a while, the dirt and substances were loose enough to be removed with a high-speed scrubber. After that, we used a steam cleaner on the walls to permanently remove all traces of mold from the tile walls.
When our techs made sure everything was pristine and spotless, they proceeded to dry the area to begin re-grouting the floor. They used our top-notch epoxy grout to re-grout the entire stone floor, in conjunction with an additive to bring back a dark black look to the pebbles. This special kind of grout is better suited for moist and damp areas such as the shower because it's waterproof, providing a resistant, long-term solution. This is a top of the line product made of a hard composition that won't crack when scrubbed. It would also provide easier, faster, and better cleaning routines for years to come. Traditional caulk, on the other hand, is more porous and can let moisture through if not properly sealed. The regrouting was about an eighth of an inch thick. This and the quality of our epoxy solution would help prevent further efflorescence in the future.
The Outcome
When our crew completed all the steps of the process, the shower looked incredible. They invited the owner into the bathroom to see the results for himself. He was absolutely astonished by the outcome. Our stone cleaning not only managed to get rid of the mold and efflorescence but restored the pebble floor back to its dark and beautiful original state. Thanks to our epoxy solution, the shower will be fully protected for a long time. Impressed with our performance, the owner stated that from that point on, Sir Grout Nashville would be his company of choice for any hard surface restoration he might need in the future. After thanking us, he said that he would certainly recommend our services to all his friends, family, and neighbors
We always take time to teach our clients how to perform proper maintenance on their restored surface. Before leaving, our crew of experts shared a couple of handy tips for easier, faster, and safer cleaning routines. First, they recommended cleaning the shower regularly using only pH neutral cleaners such as Sir Grout's Natural Hard Surface Cleaner. This type of product is safe to use on both stone and tile surfaces. It contains ingredients that can help protect from harmful microorganisms. Our experts also advised our client to keep the environment properly ventilated. The best option for this is to install an extractor fan. He can also leave a window open from time to time. In addition, keeping the area as dry as possible is a sure and simple method to prevent mold and efflorescence.
Furthermore, when drying the surface, use a squeegee, a towel, or a terry cloth. Scrub gently to avoid scratches. Also, we suggest replacing bar soaps with liquid soaps. The residue left by bar soaps in conjunction with the minerals in the water builds up soap scum on the surface. This creates nasty-looking stains that can't be removed with conventional cleaning methods. Using soaps that don't leave any residue is the best way to prevent this issue.
Stone Cleaning Services in Nashville!
Sir Grout Nashville has the solution for your hard surface problems. Our award-winning processes can give your natural stone shower a brand-new look. We have extensive experience in stone cleaning and we can restore any surface in just one day. As a leading company in the hard surface restoration industry, we have the most effective techniques to assist you with your problem. Don't hesitate contacting us by calling
(615) 649-6767
or by filling out our "Request a Quote" form for a free in-home consultation. We will be happy to attend you. Also, be sure to subscribe to our
newsletter
to receive our latest info and promotions.
If you found this article helpful then let us know in the comments section below. Likewise, feel free to share it using the share options below. Want us to cover another topic of your interest pertaining to Hard Surface Restoration? If so, then like us and follow us on social media, and post to any of our social media profiles the topic you'd like us to discuss:
Facebook Sir Grout Nashville
,
Instagram @sirgroutnashville
, and
Twitter @SGNashvilleTN
.