This Shower in Hendersonville, TN, Needed Our Grout Sealing Expertise to Be Completely Free of Mold
July 17, 2018
Soap scum is a combination of residue, mineral deposits, and dirt that forms a grimy layer over surfaces. It is a common trouble spot in bathroom cleaning. No shower or bathtub is impervious to this menace. Every time you use soap and water, a new layer of soap scum forms over the existing one, creating multiple layers. These layers trap skin flakes, among other organic substances, which produce and harbor mold and harmful bacteria. It can also seep into the grout around the tiles, giving it a muddy and dirty appearance. Because of the hazards for your health and the unsightly look it gives to the surface, eliminating soap scum from the shower should be a priority. However, when it hardens, it is difficult to remove. Also, unsealed grout is prone to absorb it easily and is vulnerable to damage. To solve this problem, the best option is to hire a professional
grout sealing company in Hendersonville, TN
.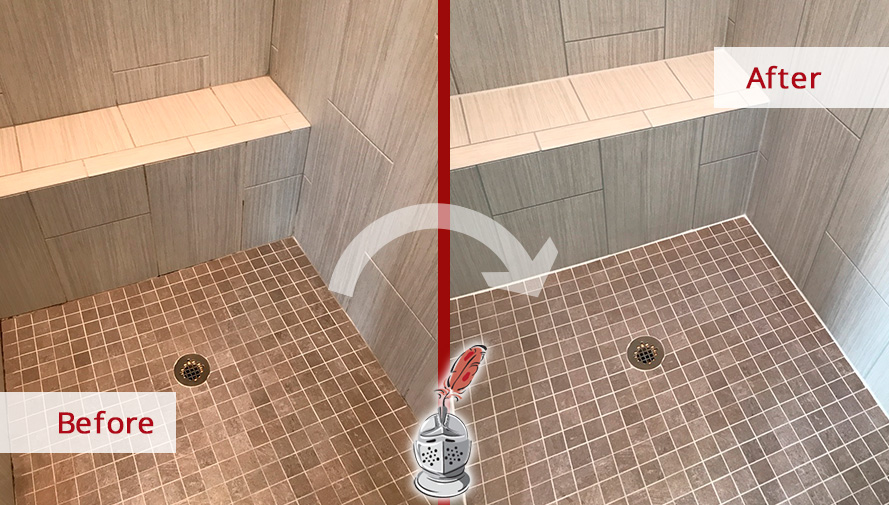 A married couple from Hendersonville, TN was having issues with the soap scum build up in their shower and the mold it fostered. They were displeased with the dingy and stained appearance of the floor and the muddy and cracked grout lines. The couple loved to keep the house clean. No matter how busy their lives were, they never missed a cleaning session. Lately, however, the shower had become a difficult place to maintain. Despite their best efforts, they couldn't get rid of the mold in the caulking of the wall's joints, and the stain formed by the soap scum seemed to get harder every time they tried to clean it. The surface remained sullied even with their exhaustive care, so the wife thought that perhaps they were not using proper cleaning tools. She went online to search for solutions.
She found methods and instructions to solve problems similar to what they were having: These DIY procedures required ammonia, vinegar, and baking soda, so she asked her husband to bring those products home. On their next cleaning session, they began the routine as instructed and spent most of the day washing and scrubbing the shower's walls and floor. Unfortunately, their endeavor was not successful. They didn't notice any significant changes on the surface and it remained stained and moldy. The couple didn't expect this outcome, and they were eagerly looking for a solution to their problem.
Fortunately, the next weekend they visited The Nashville Home Remodeling Expo and met Sir Grout Nashville. The couple told us they were having a hard time eliminating mold and trying to remove a stain from their shower. We knew the issues they were facing and told them we were experts in hard surface restoration. We invited them to check out our website for more information. When they returned home, they went online to browse our site. Our
"Before and After" gallery
caught their attention. The couple saw several pictures of showers with similar problems as theirs and they were impressed with the amazing transformation our professional work achieved. After reading testimonials from previous clients, they were convinced we could restore their shower and decided to give us a call to schedule a free in-home consultation.
A couple of days later, we arrived on the appointed date for the shower's assessment and to offer an effective solution for the problem. After briefly greeting the owners, we began the evaluation. We immediately noticed the soap scum accumulation on the shower's floor, forming a gray, filmy layer on the surface and giving it a stained look. This is caused when the minerals in hard water react with the fatty acids in bar soap residue. We also noticed the prevalence of mold, which had begun to consume the latex caulking. We explained to the couple that they couldn't get rid of that because the mold and the latex had become one. Furthermore, the grout was unsealed and exposed to external agents. To remove the stains, eliminate the fungi, and seal the grout, the shower needed professional maintenance.
We offered a grout sealing service to restore the surface using our advanced techniques and products. We would remove the stains using our high quality stain remover and replace the moldy caulking with an Epoxy Grout substitute. This is a top tier product, highly resistant to mold, water, and stains. We would also seal the tiles and grout with our unique and exclusive ColorSeal. This high level sealant would provide an extra layer of protection against external agents all while enhancing the look of the grout lines with a uniform color. We assured the couple that when we completed our work, they wouldn't have to worry about mold or stained shower floor. They were pleased with our proposal and proceeded to set up a date for the job.
We returned to our clients' house on the set date ready to begin the grout sealing process. It was a multi-step procedure that required the most skillful techniques and high quality products:
Cleaning the walls and floor using our pH-neutral tile and grout cleaner with a gentle, high-speed scrubber. This product is soap free and safe for the tiles and grout. It won't leave any residue that could be absorbed by the grout lines and won't stain or discolor the tiles. We cleaned the shower until it was free of dirt and grime.
Using a high temperature steam cleaner, we steamed cleaned all the grout lines. This removed the mold from the environment. To get rid of the stains, we scrubbed the walls and floor with a hard water stain remover until they were completely gone.
Replacing the old, moldy latex caulking with our Epoxy Grout substitute. This is a highly resilient product that would provide long lasting protection against mold, water, and stains.
Sealing all the tiles and grout with our top quality ColorSeal. This state-of-the-art sealant not only enhances the look of the surface, it also provides an extra layer of protection against all external agents for a long time. We applied the sealant on the shower's floor and wall until it was completely protected.
When we completed all the steps, the shower had been renewed. It had a clean and refreshed appearance with no traces of stains or mold. The grout lines looked pristine and had a uniform color, thanks to our top tier sealant and the tiles recovered their natural beauty. This remarkable restoration could have only been accomplished with our professional and experienced work and our exclusive products.
We invited our clients to see the results. The couple was impressed with the renovated appearance of their shower; they couldn't believe how good it looked. They were delighted to see that the mold was finally gone and the stains had been removed from the surface. They were amazed by the quality of our work and after thanking us, they said we had become their company of choice for hard surface restoration, and from that point on, they would recommend our service to all their friends, family, and neighbors. We provide our clients the best solution for their problem and guarantee long lasting, easy to maintain results.
We also take time to train our clients on how to perform proper maintenance and keep their shower in top condition for a long time. Before we left, we gave the couple some recommendations and suggestions to make cleaning routines faster, easier, and effective:
Try not to use bar soaps. Soap scum on tile and grout is nothing more than bar soap residue that has re-hardened on the surface. Not using these soaps would mitigate the accumulation of soap scum in the shower. It is recommendable to use gel soap because it won't leave any harmful residue on the tiles and grout.
Use safe, pH-neutral, soap free cleaners, which are harmless for the grout because they don't leave any sticky residue. Soap-based cleaners leave a film that seeps deep into the grout lines, promoting mold and mildew growth. Acidic cleaners, on the other hand, are harmful and can discolor the grout and break it. These types of cleaners should be avoided.
Keep the bathroom well ventilated and dry. This is an important step to prevent fungi growth due to the moisture of the environment. Dry the surface using a squeegee, a towel or a terry cloth. Squeegeeing is a great choice to prevent soap scum buildup. Also, leave the doors open, especially after hot showers.
These easy to follow steps and our advanced techniques and products would maintain the shower in great condition for years to come.
If you are having a hard time cleaning your shower and you are looking for professional assistance, our grout sealing services are exactly what you need. Sir Grout Nashville provides professional and qualified expertise that will make your shower look brand-new. As a leading company in the hard surface restoration industry, we offer the most effective techniques to help you with your problem. Don't hesitate to contact us by calling
(615) 649-6767
or by filling out our "Request a Quote" form for a free in-home consultation. We will be happy to attend you. Also, be sure to subscribe to our
newsletter
to receive our latest info and promotions.
If you found this article helpful then let us know in the comments section below. Likewise, feel free to share it using the share options below. Want us to cover another topic of your interest pertaining to Hard Surface Restoration? If so, then like us and follow us on social media, and post to any of our social media profiles the topic you'd like us to discuss:
Facebook Sir Grout Nashville
,
Instagram @sirgroutnashville
, and
Twitter @SGNashvilleTN
.